Build effective skills and your personal brand, and develop the tools and strategies needed to secure an internship or full-time position.  Our career coaching team has developed all of the tools you need to get started. 
Our Career Lab and coaching appointments provide the personalized support to accompany learning through these resources.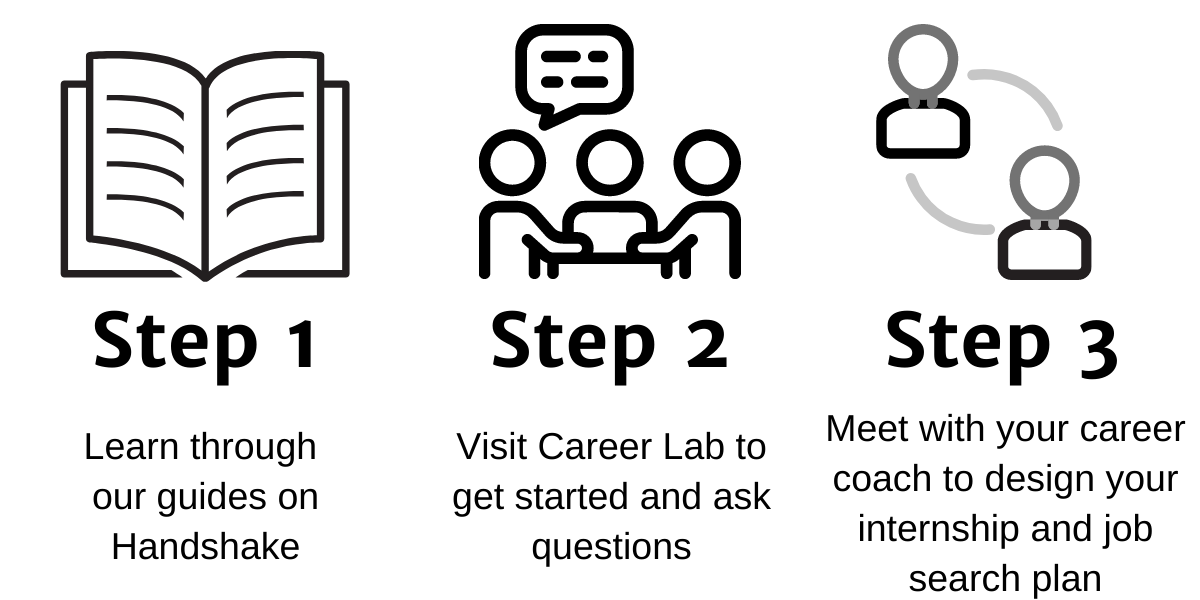 Career Success Studio: A Virtual Learning Community
Join fellow students as you prepare for your job or internship search. This microlearning course is fast, easy, and manageable.  We'll help you stay on track with clear and comprehensive action steps and milestones.  Most likely you've already accomplished some of the milestones and the course will provide the opportunity to polish your resume, networking and interviewing skills.  We created the course to be ultra-focused on everything you need for a successful search. Following two 2-hour sessions and completion of career milestones, students will:  
Complete a microlearning course which will help you

manage your time

and complete weekly milestones needed for a successful search
Design a

customized plan

for a successful internship or job search, how to create your personal brand, develop a professional network and ace the interview
Benefit from

personal connections

with fellow students who are also seeking internships and full-time positions
Participate in discussion topics for added

support and learning
Research also shows that group models of career coaching offer numerous benefits for participants including enhanced social support, greater clarity in career-decision making, and an increased likelihood of achieving job search goals (Pyle & Hayden, 2015).
Career Studio cohorts will be held during the winter and summer breaks.  Be sure to check updates from the Career Center regarding sessions dates.   
Career Management Seminar: 
A Self-Paced, Online Program for Graduate Students
Uncover the hidden curriculum to create the path to your dream job! This program is open to current Lehigh graduate students to position you for success as you prepare to launch your job search or advance your career. Learn how to strategically navigate your career development journey no matter what stage of the journey you find yourself in. 
The Career Management Seminar is designed specifically with graduate students in mind and is self-paced to allow for maximum flexibility. The learning modules in this program can be completed remotely in about five to seven hours during the Fall or Spring semesters. The Seminar incorporates opportunities for career support and includes recommended action steps within each module to apply learning.
As a graduate student, you will develop your career management skills and gain insights into: 
Exploring career options
Building your personal brand and professional network
Preparing for an internship or job search
Mastering the interview process
Evaluating and negotiating a job offer
Enroll in the Career Management Seminar to increase your confidence to explore and pursue career opportunities through actionable steps. Equip yourself to reach your career goals and leverage your graduate degree to make an impact in your field. Find the link to register in the events section of Handshake.
Resume
Check out our Resume Guide on Handshake for a step-by-step guide to developing  the perfect resume. Whether you're starting from scratch, making revisions,  changing your resume format, or targeting your resume for a specific role, we have everything you need to ensure you submit a stellar resume.  After checking our tips and samples in the Resume Guide,  visit Career Lab to refine and sharpen your resume and personal brand. 
Cover Letters
When you write a cover letter, it's challenging to be concise.  Learn how to tell your story and align yourself with the position and company you are applying to through our Cover Letter Guide on Handshake.  Once you have a rough draft, visit Career Lab for tips and examples that will set your application apart. 
Job and Internship Search
Looking for an internship or your first full-time position?  Learn how to design a proactive job search through our Job and Internship Guide on Handshake.  After reading through the guide, make an appointment with your career coach to design your plan. 
Networking
In today's economy, networking is more important than ever.  Explore our Networking Guide for our best advice on how to reach out, form connections and build relationships that will boost your career. 
Interviewing
We know interviews can be intimidating, but with the right preparation you can clarify your thoughts and feel confident!  Through our Interviewing Guide, learn about the different types of interviews, how to use the STAR method to prepare for interview questions and the top skills employers look for across all industries. 
Job Offer and Salary Negotiation
You've prepared and accomplished so much already, you want to be just as prepared when given a job offer.  The job offer and salary negotiation guide provides valuable information regarding salary research, how and when to begin salary negotiations, as well as negotiation strategies.
Hire Lehigh YouTube Channel
Our YouTube channel is filled with video tutorials for career skills as well as featured videos regarding COVID-19 resources and insights from our employer partners.
Hire Lehigh Blog
We're here to help you to decide who you are and where you want to go!  As you think about your future, our career blog has many articles and inspiration on career exploration, internships and jobs, networking, Interviewing and features guest bloggers including alumni and employer partners.
The Big Interview 
Need help to ace your next video interview?  The Big Interview is a step by step interview training platform with AI- based feedback.  There are over 140 video lessons as well as mock interview practice with video recording.
LinkedIn Learning
LinkedIn Learning offers over 12,000 courses to explore and 5,000 video tutorials from industry experts and leaders which can be accessed on a variety of devices.