Lehigh University's co-op program is a selective honors program for sophomore students in the P.C. Rossin College of Engineering and Applied Science that integrates academic study with approximately 8 months of full-time, professional experience. Co-op has been a central component of our engineering curriculum for over 25 years, with the concept of cooperative education first conceived here at Lehigh by Professor Herman Schneider in the early 20th century.
Co-op students acquire in-depth, resume-enhancing industry experience while participating employers gain vital contributions from high-achieving young professionals and prospective employees.
Meet Lehigh's 2019/2020 Co-Op Students!
WHO CAN PARTICIPATE
Engineering students who have achieved a cumulative GPA of 3.0 or higher after their first three semesters are eligible to participate. This GPA requirement is a unique feature of Lehigh's co-op program that is in place due to the high quality, technically challenging nature of our co-op opportunities as well as the rigorous academic schedule that co-op students must follow. Students from both disciplinary and interdisciplinary engineering programs are eligible. 
HOW THE PROCESS WORKS
Official letters of invitation are sent to eligible students during the winter break between the fall and spring semesters of their sophomore year. Students proceed to apply and interview for positions throughout the spring semester, and offers are typically extended by the beginning of April. Those who successfully secure opportunities then follow the timeline below: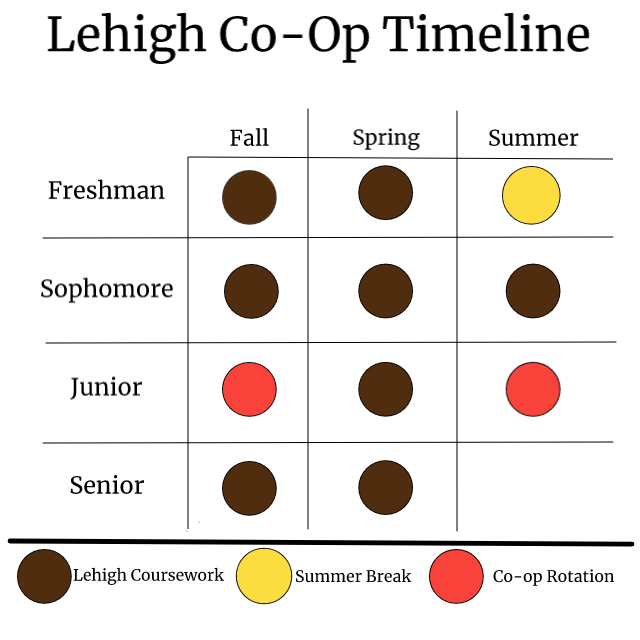 Check out the Co-Op FAQ Brochure to learn the answers to commonly asked questions regarding housing, financial aid, registration, and academic services.
WHY CO-OP: STUDENT PERSPECTIVE
Co-op students gain valuable, in-depth industry experience while still graduating in four years. This experience helps to clarify their career interests, build their network of industry contacts, and bridge the gap between classroom concepts and real-world practice. In addition to gaining essential skills and knowledge, co-op students earn competitive salaries and six free-elective credits for this experience. Research also shows that co-op heightens students' confidence in their ability to succeed in the engineering industry, especially among members of underrepresented groups such as women and students of color.
Upon graduation, co-op participation enhances students' resumes and increases their marketability to employers. A national study conducted by the National Commission for Cooperative Education exemplifies this point, finding that approximately 95 percent of co-op students have successfully secured a job by the time they graduate. Some studies also suggest that co-op students generally earn higher starting salaries than those who are non co-op. At Lehigh specifically, many co-op students are converted into full-time employees with their co-op employer while others are able to successfully leverage their co-op experience for offers from other companies. Clearly, the co-op program is one of the best ways for students to prepare for life after Lehigh! 
"Throughout a co-op, participants develop an invaluable trait - confidence in their respective fields.  With this, we are able to go beyond what it means to be a student and actively participate in solving industrial problems."  
Nate Rex '19, Bentley Systems co-op 
"The co-op experience was a rewarding one.  I have the opportunity to explore the various engineering roles my company had to offer and meaningfully contribute towards the company's overall mission statement." 
Shrivats Agarwal '20, B. Braun co-op
WHY CO-OP: EMPLOYER PERSPECTIVE
Employers who hire Lehigh co-op students not only gain ambitious and creative talent in the short term but also have the opportunity to observe and develop prospective employees. The students who participate in co-op have achieved a GPA of 3.0 or above and engaged in rigorous academics focused on experiential learning, making them well prepared to bridge skill areas and provide vital contributions to companies. In addition to gaining fresh perspectives and energy, co-op provides employers with a pool of talented young professionals who are available for full-time conversion after only four years of study – an entire year earlier than co-op students at most other institutions. This is an extremely cost-effective strategy for workforce development. Employers also find co-op to be a personally rewarding experience that allows them to participate in the educational process, contribute to students' professional development, and form a strong partnership with Lehigh University.
"We provide Lehigh's brightest technical students with opportunities to navigate the complexities of a large, matrixed organization; coach and enable them to be self-starters; and challenge them to generate positive technical and leadership outcomes on projects that provide value to the company."
GE Transportation, A Wabtec Company 
 
A SNAPSHOT OF PAST CO-OP EMPLOYERS: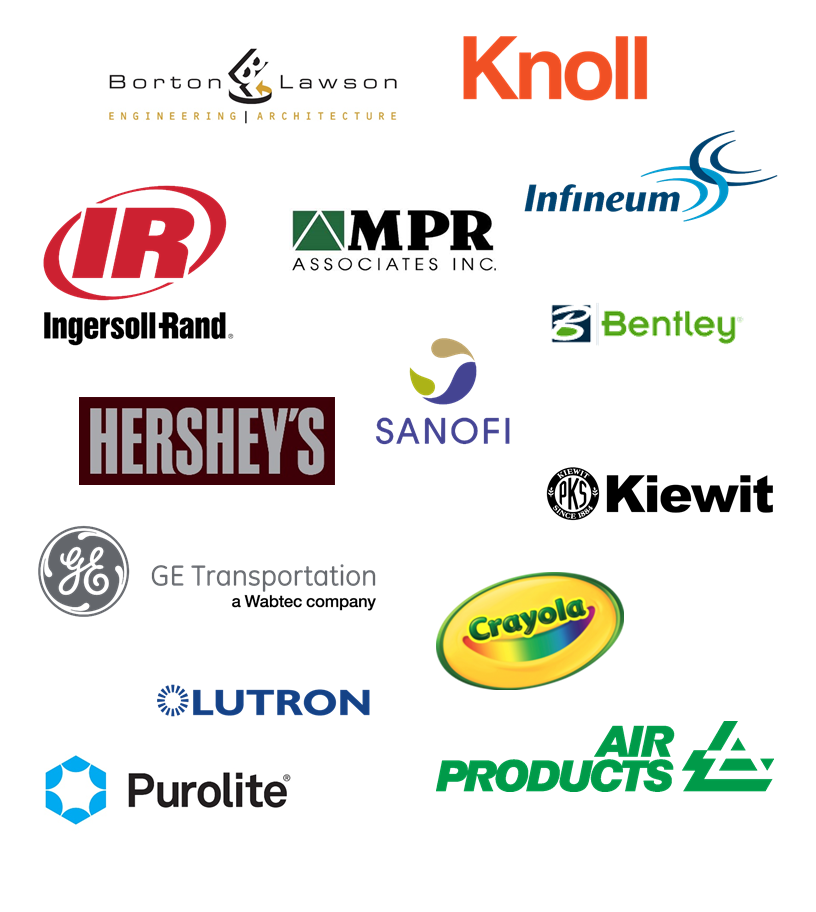 "The co-op program is an important part of Lehigh's undergraduate curriculum.  After completeing the program, students have a better focus on their education and a clearer idea of their employment goals after graduation." Professor Kemal Tuzla, Associate Chair of the Chemical and Biomolecular Engineering Department
For more information, please contact Katharine Marianacci at krm617@lehigh.edu or (610) 758-3710.
Current students should also check out the Co-Op resources on Handshake.